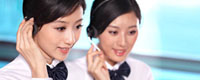 Name: High Rise
Tel: +0086 755 8836 5994
Fax: +0086 755 8836 5994
E-mail: info@hrhighriseaccessories.com
Add: 4th floor, #81, Xiazao Village, Dalang Street, Longhua District, Shenzhen, China, 518109


About Production Lead Time
Why production lead time is so long.

Usuall we will quoted 35-40dasy for production.
Many Clints will ask why so long, especially the new started business, as they don't think their order need so long time for production.

However factory don't produce only for one client, we have many orders from different clients per month, we have our production schedule for each order.

Many orders we produce alternate, for example we received SD orders firstly, we are cutting the meterial but have to wait for charms which purchased from other factory, then we will stop this order and start another order. When charms received then we start SD order again to finish them as per the promised delivery date.
So we need enough time to schedule all order to make sure our production line have works to do and clients can get the cargo within a reasonable time.

Please be noted factory don't produce all components all by theirselve, like fabric shape have to be cut by cutting factory, poly charm or metal charm also need special factory to make them. No one factory can finish so many processes.And Each Process in different factory also is scheduled.