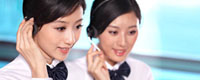 Name: High Rise
Tel: +0086 755 8836 5994
Fax: +0086 755 8836 5994
E-mail: info@hrhighriseaccessories.com
Add: 4th floor, #81, Xiazao Village, Dalang Street, Longhua District, Shenzhen, China, 518109


About colour aberration for small fabric items order
Sometimes clinets will complain that factory make color aberration between samples and bulk.

Why this happedn?
As we know MOQ for fabric is high, usually we can't order/ dyeing so much for small orders.
For small qty order, factory will purchase the material directly from open market, but fabric supplier won't keep the material for you until they got the official order.
And ususaly there are several days from samples to bulk, ,and factory also have schedule on production.
So once factory can't buy maetrial in time, fabric matrial are sold out, fatory have to source same fabric in another fabric supplier.
However, the fabric supplier may order the fabrics from different fabric making factory, then color will have some aberration.

Or the previous supplier can order same fabric from same fabric making factory, as the dyeing batch is different, which also cause color aberration.

How to solve this problem?
So it's better that you ask factory send you several similar color swatches for selection together with samples.
Then if confired color fabric are out of stock, you can select another similar color and confirm the order asap , factory can purchase material quickly without send samples again...