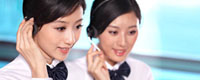 Name: High Rise
Tel: +0086 755 8836 5994
Fax: +0086 755 8836 5994
E-mail: info@hrhighriseaccessories.com
Add: 4th floor, #81, Xiazao Village, Dalang Street, Longhua District, Shenzhen, China, 518109


High Rise , Manufacturer in Shenzhen Guangdong China, founded in 2008.

Offers clients kinds of handmade accessories such as Alice band, Hair clip,
Headband,hair flower,Bandana, handmade necklace, earrings ,rings, bracelets ect. with various material like chiffon, ribbon,satin,cotton cloth,leather, feather,crystal...

At the beginning,we only worked with trade companies. After years development,to increase our sales and also decrease the intermediate cost of trade companies, we are planning to do business with foreign clients Directly.

So We registered HK office for better severice and open bank account of Hong Kong and Shang Hai Banking Corporation to make sure clinets' payment are in safty situation.

We will be your reliable supplier, hope you can give us chance to work with you!